How Njoyn's Interview Scheduler Makes Interview Planning Easier
Make interview planning easier for everybody involved
Hiring processes require efficient communication and coordination. But efficiency suffers when parties to the process handle it using tools like phone calls and email. The more positions a company's recruiters need to fill, the more they rely on phone calls and email, and the more likely mistakes are to creep in.
That's why the modern applicant tracking system must re-imagine interview scheduling. Consider the dilemma from three different viewpoints
Recruiters
These are the people who do the heavy lifting, the ones who coordinate using various communications channels, who are responsible for keeping details straight and hiring processes on track.
Their load is heaviest since they handle multiple recruiting initiatives. (Other parties only need to bear with one.)
Consider situations where multiple candidates are offered interviews. One scheduling misstep can mean lost hours, humble apologies and other consequences recruiters would rather avoid.
Instead of manual scheduling, imagine a recruiting system that enables candidates to choose interview times from a pre-set list.
Candidates all receive emails containing links to the scheduling system.

Candidates who reply early choose the times they want.

Later responses are met with whatever is left.
All the recruiter does is choose the time slots to make available. The interview scheduler handles the rest of the process. The system prevents conflicts and human error in the process.

Pre-selected time slots make scheduling easy for both recruiter and interview candidate.
Candidates
Candidates will gladly take control of interview scheduling if it means avoiding phone tag and excessive email. They can do precisely that using the link in the above-mentioned email.
The interface is simple enough to describe in a few steps:
Time slot choices are represented by "radio buttons" which means each candidate can only pick one option.

Once the candidate saves the choice, the time slot is set.

That time slot is no longer a choice for other candidates, so scheduling conflicts can't occur.
Candidates get the reassurance of confirmation emails as well as reminder emails closer to the date of their interview. Recruiters don't send these emails – the applicant tracking system does. Candidate can also have the ATS put the interview in their personal calendars so they can block off the date and time.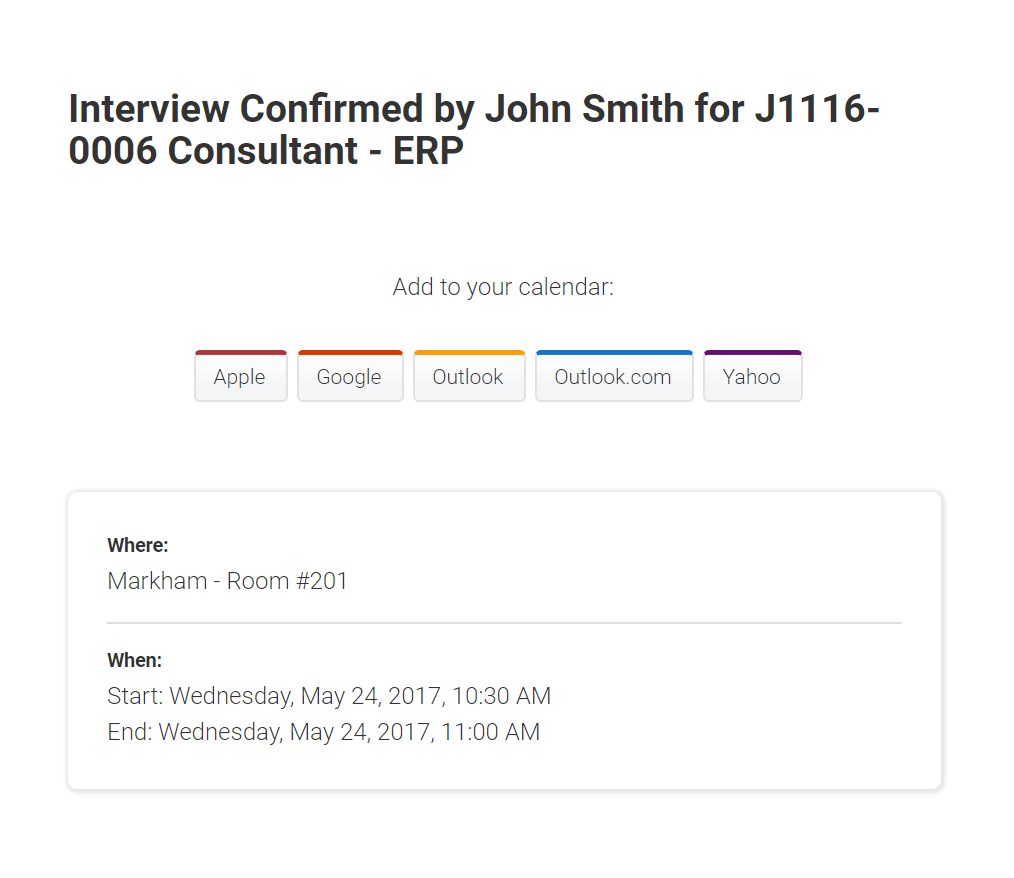 Hiring managers and other interviewers
Once hiring managers request a new hire, the next thing they ought to see is an interview schedule. Their time is just as valuable as everybody else's, so extra phone calls and emails won't work for them either.
The interview scheduler sends each interviewer a scheduling message for blocks of time interviewees may arrive. They also get confirmation emails when interviews are set, plus the ability to slot the interviews into their calendars.
Conclusion
The efficiency of a recruiting process reflects on the company that enacts it. Make your company the one that impresses recruiters, candidates and hiring managers. Choose an ATS that features an interview scheduler. It will cover all the bases recruiters may not have time to cover and keep everybody else on track.
What tactics or tools do you use to make interview scheduling easier for all involved?